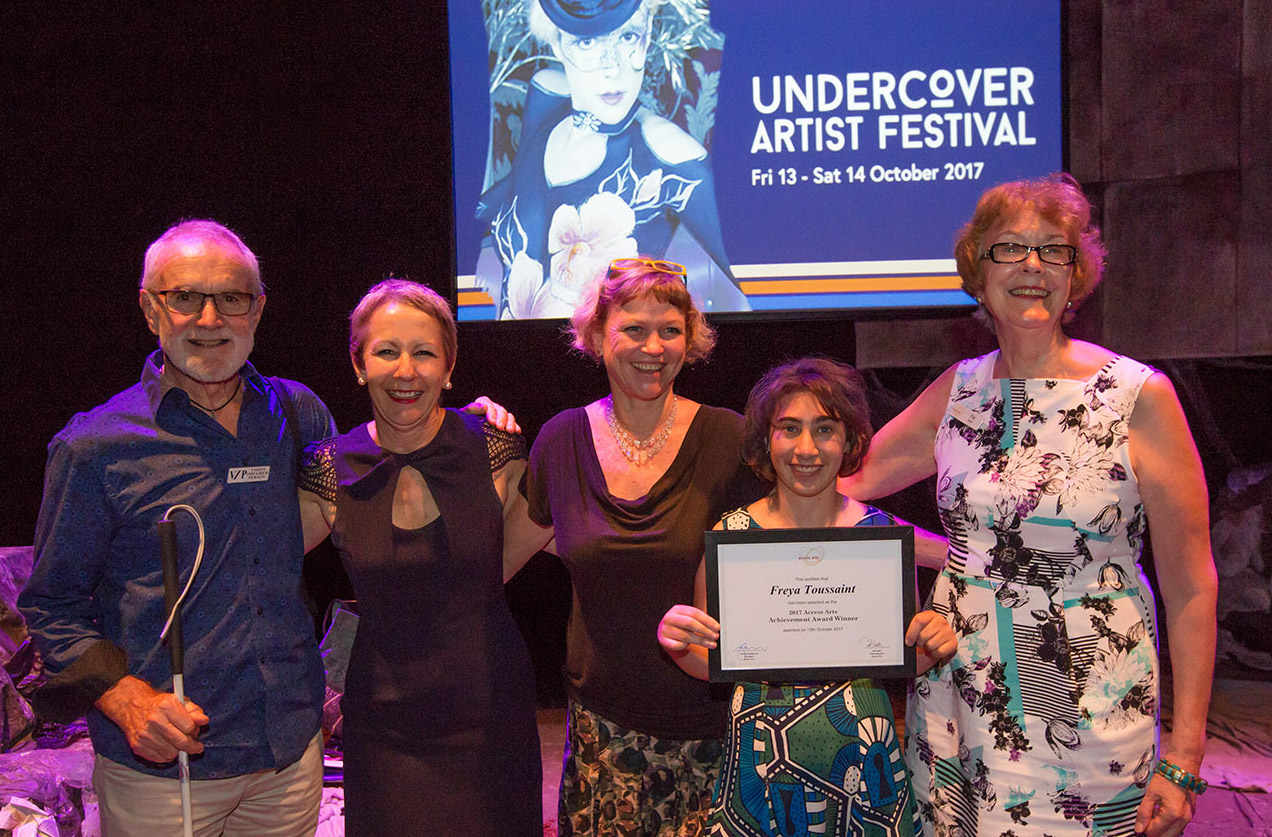 The winner of the Access Arts Achievement Award for 2017 was announced on Friday evening by Di Farmer MP representing the Premier and Minister for the Arts the Honourable Annastacia Palaszczuk, and singer-songwriter Peter Vance, at the Opening Night of Undercover Artist Festival 2017 at Queensland Theatre.
Freya Toussaint was selected by an esteemed panel of judges as recipient of this year's award. Toussaint is a young emerging artist whose current practice is focused on printmaking. The Award will empower Toussaint to establish an arts collective of young creatives named 'Arts for Art's Sake', who will together develop their practice and then showcase their artwork in a final exhibition. This new collective is a testament to Freya's creative spirit. The project is called the "Ripple Effect", as one small change will have an enormous impact. The Access Arts Achievement Award provides up to $10,000 funding for Queensland artists, arts workers and producers with disability working in any artform to create, develop, present, produce, exhibit and/or tour their work.  Read more

Term 4 Special Offer: Bring A Friend For Free!
Share your experience with a friend so they can explore their creative side with you! For a limited time only and while spaces are available, members can invite a friend to enrol in Term 4 workshops. Send this message to a friend you'd love to have in your workshop – they can complete an enrolment form online here: http://accessarts.org.au/what-we-do/community/.
If you're both on Facebook, you can tag them in this Facebook post, and ask them to share the post with their friends. 
Conditions Apply: 
– Your friend must be new to Access Arts (not a current member) and will be required to become an Access Arts Member by completing a membership form and paying the required fee ($10). 
– Your friend will need to use the coupon code FRIEND and your name on their enrolment form prior to attending workshops. 
– Enrolment is subject to availability. 
– Offer available for Term 4 Community Workshops only. Professional Development Workshops are not part of this offer.
For more information, please contact Access Arts:
Email: info@accessarts.org.au
Telephone: 3505 0311