Two Access Arts artists to display work in Tokyo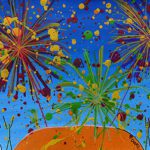 Great news! Congratulations to two of our artists, Tanya Darl and Belinda Peel, who have been selected to display their work at the Paralym Art World Cup 2018 in Tokyo this August. Tanya and Belinda, who are both members of the Brisbane Outsider Artists' Studio, received the highest scoring among applicants from Australia. Read more
---
Get a head start on your AAAA application
The Access Arts Achievement Award provides funding for Queensland artists, arts workers and producers with disability working in any art form to create, develop, present, produce, exhibit and/or tour their work. The $10,000 award is made possible by a generous donation from Access Arts Life Member, singer-song-writer Peter Vance.
Applications for the 2018 Access Arts Achievement Award will be open for submission on Monday, 10 September 2018. However, you can get a head start on your application today by clicking here. 
---
The NDIS has arrived in Brisbane!
The National Disability Insurance Scheme (NDIS) is now ready to roll-out across Brisbane and the surrounding suburbs. Over the next 12 months, the Scheme will work to support a better life for the many Australians in the region living with disability, their families and carers. In a nutshell, the NDIS is a government initiative that changes the way people with disability receive funding and support, giving each person more choice and more control to live their life their way. Read more
---
Term 3 Workshops open for registration
We just said goodbye to Term 2 last week and it's already time to start thinking about Term 3. Our exciting line-up of workshops has been finalised and we are now open for registration. With the new term beginning on 16 July, you still have time to sign up. We'd love to see you there. Read more
---