Tommy and his Queen Nala mural at Brisbane Street Art Festival
Tommy, from Mix the Arts Studio, as part of the Brisbane Street Art Festival 2023, creating his live mural: Queen Nala.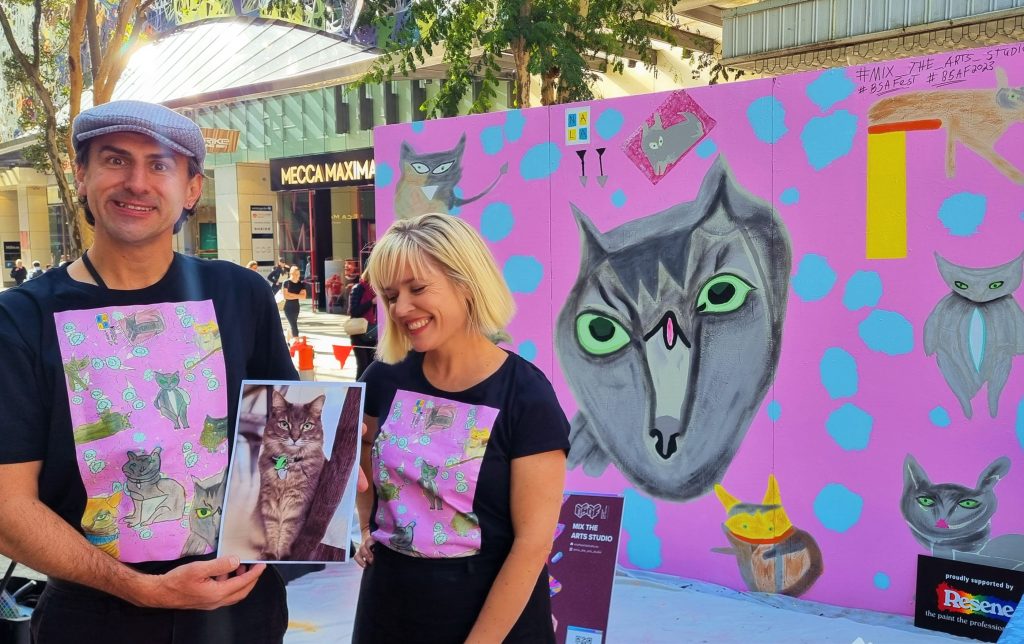 We were so proud and excited when Tommy told us that he had been selected to be part of the Brisbane Street Art Festival 2023! He's been a part of Access Arts for over 5 years, showing his artwork in a lot of our exhibitions, and bringing his fun and vibrant energy to our BOA workshops. 
The festival is an exciting celebration of urban creativity that takes place every year in Brisbane. The festival showcases the diverse talents of local and international street artists, transforming the city's walls and public spaces into captivating works of art. Throughout the festival, visitors can explore various neighborhoods to discover an array of murals, graffiti, and installations that reflect a wide range of artistic styles.
This year Tommy was one of the talented artists chosen to showcase his work through a live mural on Queen Street Mall. 
Check out our video below! Tommy tells us all about his journey to the Brisbane Street Art Festival, and his feline inspiration behind this artwork. 
We love working with Tommy, and getting the chance to show off his artistic brilliance. 
Keep up to date with everything he's up to here on his website.