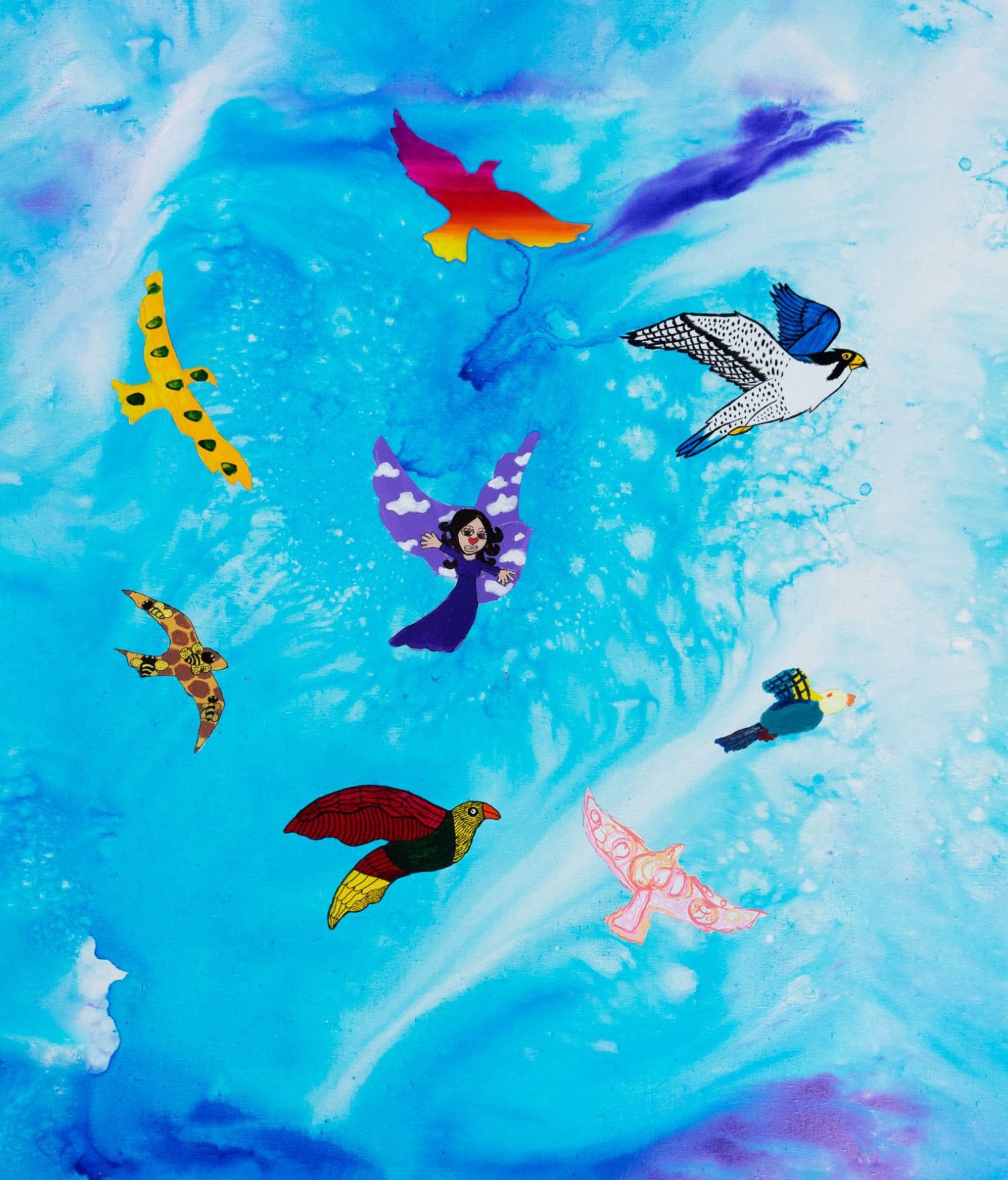 Looking Forward, Looking Back
Artwork: Birds of a Feather (Detail) by Brisbane Outsider Artists
Access Arts is proud to present Looking Back, Looking Forward – an exhibition which shines a light on talented Queensland artists and starts a conversation about the need for greater recognition of artists with disability. 
Created by artists from Access Arts' Brisbane Outsider Artists' studio, Looking Back, Looking Forward is kindly supported by KPMG Brisbane, the Lord Mayor's Community Fund, Lord Mayor Cr Adrian Schrinner and Cr Vicki Howard - Central Ward, and the Queensland Government through Arts Queensland.
This exhibition celebrates the 10th anniversary of KPMG's sponsorship of Access Arts artists with disability. The theme, Looking Back, Looking Forward was chosen by the artists to highlight their creative evolution over the past decade and symbolises the development of their creative practice throughout this time. 
Exhibiting artist Kerry Beazleigh said the opportunity to speak about her work publicity at the private viewing last year allowed her to overcome her anxiety.
"The KPMG exhibition gave me a feeling as an artist of being very supported and valued," Kerry said.
Her piece this year, Reflecting on Life's Journey, encourages the audience to delve into their own reflection of life.
"In this painting, the symbolism of the mountains hides the uncertainty of what is coming next, while the river represents the twists and turns that life take," Kerry said.
Fellow artist Lisa Blake said she reflects on this year's theme in her painting The Stars are Aligning, which focuses on coming from the past and heading towards the future.
"I have used the rainbow pathway in an older artwork and more recently I've been painting stars, so it is looking at my older and newer styles of painting," Lisa said.
The exhibition has provided an opportunity for both artists to explore their futures, reflect on their past and see how far they have come.
"The KPMG partnership has been a good opportunity for me to exhibit and sell work in different mediums and meet the person or organisation who has bought my work" said Lisa. 
Looking Back, Looking Forward will be exhibiting at KPMG Brisbane, Riparian Plaza from Monday 24 October until Friday 9 December and will feature a catalogue of Access Arts and KPMG Brisbane exhibition history, collaborative components and artworks created specifically for Looking Back, Looking Forward. The exhibition features 23 new artworks by 18 artists. 
All artworks are created by Access Arts' Brisbane Outsider Artists and are available to view and
for sale online via accessarts.org.au/looking-back-looking-forward.