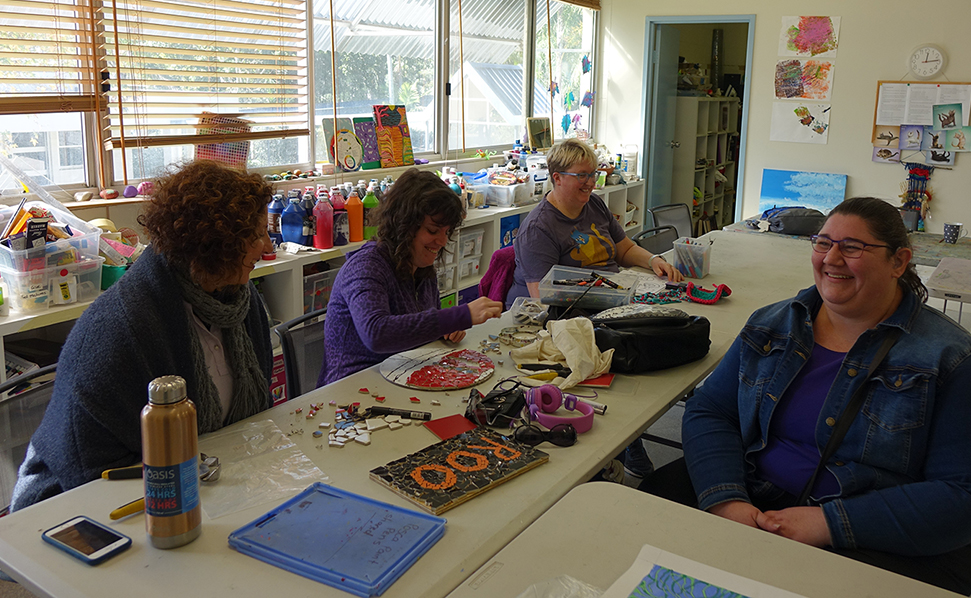 Working at Access Arts is so much more than a job. It is a chance to join a community of like-minded individuals working together to support artists with disability or disadvantage. Our focus is on achieving successful outcomes for our members.
Fun, smart and passionate people make Access Arts an incredible place to work. If you enjoy working in a positive workplace environment and would like to make a difference to the lives of others, Access Arts would like to hear from you.
There is currently one position available:
Visual Arts Workshop Assistant
Are you passionate about the arts? Are you empathetic, patient and inclusive? We are currently seeking a Visual Arts Assistant to support participants who experience disability to create meaningful artworks.
Our workshops are an accessible, safe, and supportive environment where people experiencing disability or disadvantage can explore their creativity with various visual artforms.
Working alongside our Arts Facilitator you will encourage participants in their creative work, supporting them to achieve their best arts practice, increase confidence, and develop social and creative skills.  In return we will support you to develop skills in working with people experiencing disability and disadvantage, whilst developing your facilitator skills to advance your career in the Arts.
If you are a person with a high degree of self-direction and a genuine professional interest in the visual arts and its application in the context of people with disability, we want to hear from you. We are currently looking for an Arts Assistant with experience of doing realistic painting to support our Visual Arts program on a Tuesday and a Thursday between 10.00am and 3.00pm in Eight Mile Plains.
To be successful in this role you will have:
An ability to deliver or assist in the delivery of visual arts-based workshops to groups of people with various disabilities
Bachelor of Fine Arts university qualification or equivalent fine arts experience
Excellent communication and organisational skills
Demonstrated ability to work in a team environment and also independently to deliver results
To apply click here to upload your CV and cover letter.  To find out more about our programs please visit:  http://accessarts.org.au/what-we-do-to-help/visual-arts-workshops/
Applications close Sunday 9th June 2019