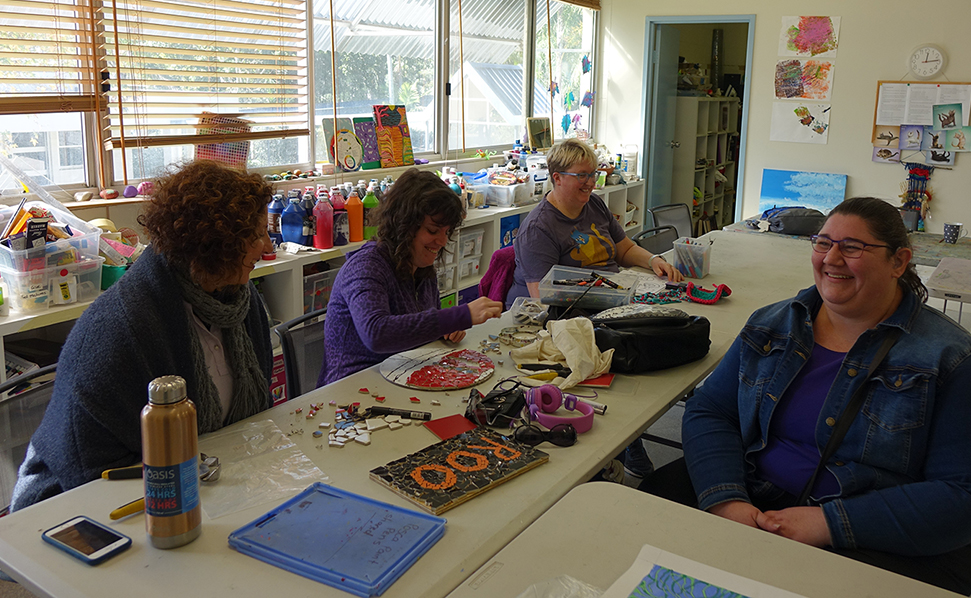 Working at Access Arts is so much more than a job. It is a chance to join a community of like-minded individuals working together to support artists with disability or disadvantage. Our focus is on achieving successful outcomes for our members.
Fun, smart and passionate people make Access Arts an incredible place to work. If you enjoy working in a positive workplace environment and would like to make a difference to the lives of others, Access Arts would like to hear from you.
There is currently one position available:
Visual Arts Workshop Staff
Are you passionate about the arts? Are you empathetic, patient and inclusive? We are currently seeking expressions of interest from visual artists to assist on a casual basis at our professional and community arts workshops.
Our workshops are an accessible, safe, and supportive environment where people experiencing disability or disadvantage can explore their creativity with various visual artforms.
Our workshop assistants encourage participants in their creative work, supporting them to achieve their best, increase confidence, and develop social and creative skills. We support our workshop assistants to develop their skills in working with people experiencing disability and disadvantage while building facilitator skills so they can advance their career within the arts.
You are a person with a high degree of self-direction and a genuine professional interest in the visual arts and its application in the context of people with disability. You may already have experience working with people experiencing disability, if not we will provide Disability Awareness Training for you. You will hold or be eligible for a Yellow Card and have or be willing to obtain a first aid certificate. But most of all, you will have a love for both the arts and working with people.
Selection Criteria:
Ability to deliver or assist in the delivery of visual arts-based workshops to groups of people with various disabilities
Appropriate arts qualification (preferred)
Ability to work with a variety of media
Excellent team working skills
Excellent organisational skills
Group management skills
Excellent interpersonal, verbal and written communication skills
Problem solving skills
Current Yellow Card for working with people with disability, or eligibility to obtain a Yellow Card
A current First Aid certificate
To apply or find out more, email info@accessarts.org.au or phone (07) 3505 0311