Upcoming arts events and opportunities for artists living with disability
---
LASER BEAK MAN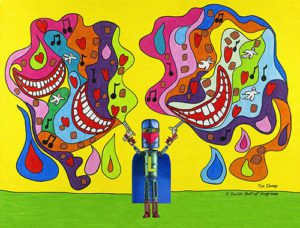 WHERE:
Home of the Arts
135 Bundall Road, Surfers Paradise, QLD, 4217
WHEN:
Thursday 16 January, 11:00am
Friday 17 January, 11:00am (AUSLAN performance)
Friday 17 January, 7:00pm
Saturday 18 January, 11:00am (RELAXED performance)
Saturday 18 January, 7:00pm
Auslan and Relaxed Performances
The performance on Friday 17 January, 11am, will be accompanied by an AUSLAN translator.
The performance on Saturday 18 January, 6pm, will be a relaxed performance. A relaxed performance is one that has been modified slightly to consider the needs and preferences of people with disabilities and their companions.
A Dead Puppet Society, La Boite and Brisbane Festival production in association with PowerArts.
By David Morton, Nicholas Paine and Tim Sharp.
With music by Sam Cromack (Ball Park Music).
Tim Sharp, the creator of Laser Beak Man, was diagnosed with Autism when he was three years old. Doctors explained to his mother Judy that he would never speak and told her to put him away and forget about him. But Judy was determined to find a way to communicate with her son and introduced him to drawing. When he was eleven, Tim invented Laser Beak Man.
Power City is the most beautiful city in the world, clean, pure, perfect; but not by accident.
Local hero Laser Beak Man works hard to keep it that way. Drawing energy from the underground Magna Crystals that power the City his beak has the ability to shoot lasers that turn bad to good. That is until Peter Bartman, evil genius, and Laser Beak Man's estranged childhood friend, steals the Magna Crystals using the Thriller Driller. Robbed of his superpowers, Laser Beak Man must find a way to stop his oldest nemesis from destroying Power City. In a story jam-packed with the trademark humour and visual puns that come from his literal interpretation of language, Laser Beak Man is a new visual theatre work by the Dead Puppet Society and Tim Sharp that explodes with colour and energy.
For more information on performances and accessibility, please call 07 5588 4000.
https://hota.com.au/theatre/laser-beak-man/
---
Auslan Accessible Events in Brisbane
Auslan Stage Left enables and provides quality Auslan interpreted theatre, and training to interpreters and deaf consultants in the area of theatre interpreting.
Visit the Auslan Stage Left website to see the full list of upcoming shows: www.auslanstageleft.com.au
---
Outside In – Expressions of Interest
St Vincent's Private Hospital Brisbane and St Vincent's Private Hospital Northside are inviting expressions of interest from artists and groups whose art would enliven wards and public hospital spaces, bringing beauty, colour and vibrancy to patients, staff and visitors in 2020.
Outside In is an annual program of vibrant and engaging visual art exhibitions that transform our hospital environments across our two hospital campuses. Outside In provides hospital patients with a connection to the outside world and gives artists the opportunity to show their work in a unique way to a wide audience, positively influencing patient outcomes.
We are looking for collections of artworks that provide our patients with a connection to the outside world that will stimulate encounters with people, places and experiences beyond the hospital itself. Artists and art groups should consider submitting proposals for exhibitions of artwork that will inspire and motivate, bring joy, provide opportunities for reflection and contemplation, and engage memory and recognition.
Artworks are displayed in the main foyers, public corridors and wards of both hospitals Exhibition spaces in the hospitals are allocated based on proposed number of artworks in an exhibition, artwork dimensions and subject/content.
Exhibitions are typically displayed for a duration of six months. We encourage sale or commission of work asking for a 20 per cent donation from any successful transaction created through our exhibition.
To find our more and to apply, visit https://www.svphb.org.au/support-us/arts-program-partners/arts-program-partners
---