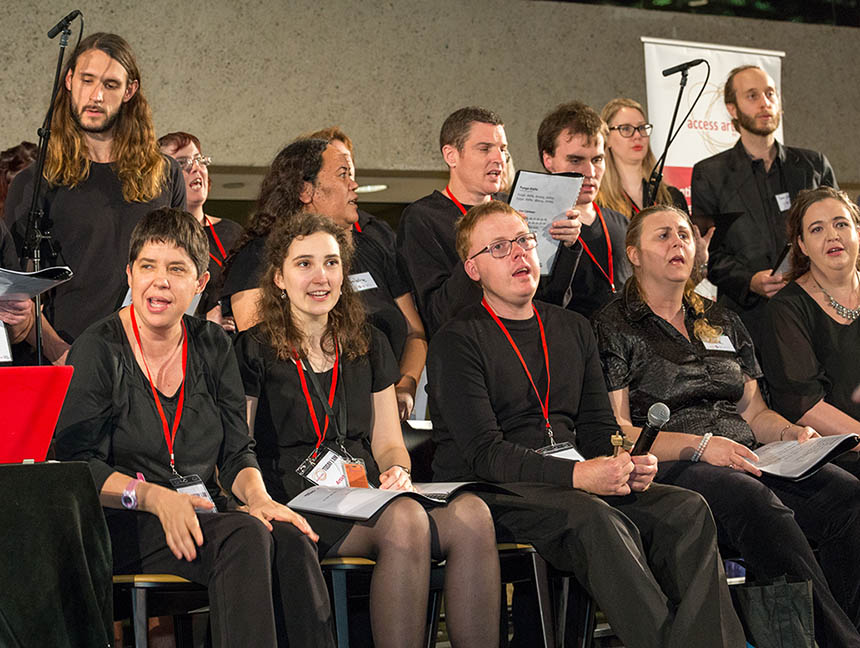 Today I Am, a recent artistic event that honoured the Women Survivors of Wolston Park, left an indelible mark on our hearts and minds. While still children, these brave individuals were wrongfully interred by the State in an adult mental health facility. The harrowing stories of the institutional abuse they experienced at the hands of the people tasked with protecting them left many in the audience visibly shaken.
Presented by Access Arts, Queensland Mental Health Commission, and Open Minds at the Queensland Performing Arts Centre, the event also acknowledged renowned Australian artist Anne Wallace, who had on display a number of paintings that paid tribute to the women's strength and resolve.
Access Arts Life Member Peter Vance, who has sponsored the first five years of the Access Arts Achievement (AAA) Award, launched the award for 2017. Find out more here.
The evening culminated on a high note with a rousing performance by the Access Arts' Today I Am Choir. Led by Queensland's iconic singer songwriters Emma Dean and Annie Peterson, the choir brought many voices together for a passionate celebration of life.
What people are saying
"It was an honour to be part of such an important event. I was so moved by the Wolston women's story being acknowledged. The choir did us all so proud. I believe the joy ran both ways. It was also lovely to work with the new members from Open Minds. Congratulations on such a significant and successful event. These performance opportunities make a massive difference to lives of our members. Congrats again and thank you for creating these opportunities."
                    – Annie Peterson, Today I Am Choir leader
"A truly engaging and enlightening event. Definitely an evening to remember and I'm sure a new beginning for many on different journeys"
                    – Participant
"It sounded awesome from behind my keyboard, everyone performed to their maximum. I'd have to say it was one of the best performances I've been a part of for sure. Also, kudos to Access Arts and their hard working staff for making this event such a success. The other bonus was that I was able to meet some new friends along the way. Great evening all round."    
                    – David Truong, Participant
"Congratulations on the Today I Am evening.  It was an outstanding event and obviously a profoundly powerful project – a wonderful showcase of your work."
                    – Michelle Farquhal, Queensland Manager, Breast Cancer Network Australia