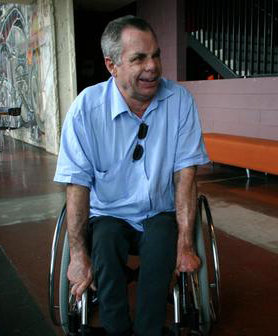 Access Arts was saddened to hear of the passing of Ross Barber in March 2018. Ross was the CEO of Access Arts from 2004 – 2009.  His appointment was significant as Ross was the first CEO of Access Arts who identified as having disability.
Ross's focus in the organisation was on providing opportunities for people with disability – in employment, both in the office and in creative workshops, as well as a wide range of participation and professional development arts workshops.
Ross's leadership style was very consultative and very early on in his tenure he created a Membership Services team to ensure members were at the centre of the organisation.  In doing this, a community was created, where people were offered opportunities and freedom to achieve what they never thought possible.  Ross often saw potential in individuals, both staff and members, where others didn't.
A visionary man, Ross Barber was instrumental in bringing people together for community projects, always with the view to expand and take it further, allowing opportunities for creativity in places where it wasn't readily available.  Ross was passionate about ensuring the state-wide remit of Access Arts was seen, working closely with many regions from Currumbin on the Gold Coast, north to Cairns, and many in between.
One of Access Arts' flagship projects at the time was Sound Circles, a voice and movement workshop.  Under Ross's encouragement, Sound Circles grew and developed from a one-off workshop, to creating regular workshops throughout the state, a toolkit for facilitators, to taking it interstate for arts and disability conferences, as well as to Japan for World Expo in 2005.  This project was the catalyst for many life-changing opportunities for both participants and facilitators alike.
A talented visual artist himself, Ross took the Brisbane Outsider Artist (BOA) group to the next level, seeking out opportunities for professional development by resourcing the workshops with professional artists as facilitators who challenged the participants.  Ross was always encouraging the group, and individuals within it, to seek exhibition and competition opportunities, pushing the artists to go out of their comfort zone to achieve success in their art.  Through these experiences, many of these artists also gained confidence and skills in other areas of their daily lives.
Ross's family, especially his wife Ruth, were always willing and ready to help out where required at Access Arts events and projects.  Ross treated staff like his extended family, always generous with his time and energy, and always ready to share a cup of tea.
The Access Arts community, both past and present, offers its deepest condolences to Ross's family.  He will be remembered by all who knew him.
– Access Arts Life Member Peter Vance, former Executive Officer Emma Bennison and General Manager Angela Jaeschke.