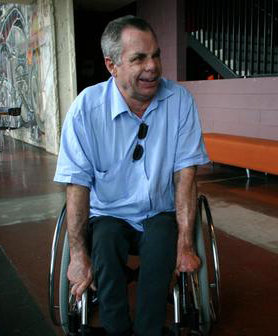 We sadly farewell Ross Barber former Executive Director of Access Arts who passed away in March.
In 1991, at the age of 40, Ross was in a serious motorcycle accident in the Blue Mountains, following which he became a paraplegic.  He had trained as a painter, but at the time of the accident Ross was working as a building supervisor. After the accident, Ross took up art again; initially creating quite confronting drawings of himself in hospital. He completed a Bachelor of Arts degree at the University of Western Sydney, as he recovered.
Originally from Eudlo, Ross attended high school in Wollongong.  After UWS, Ross returned to Queensland and took up an Artist in Residency role in Bundaberg.  He then moved to Brisbane, where he completed a Master of Fine Arts at QUT, graduating with a high distinction.
In May 2004 Ross became the Executive Director of Access Arts, serving in that role for five years, living out his passion for art and for working with people with a disability.  In an interview with Richard Fidler In Conversation on ABC Radio, he described that role as a "dream job".
Ross also was involved in starting the Art from the Margins Project.  He initiated and developed web-based multi-arts performance programs for young regional artists experiencing disability.  Ross was awarded a Centenary of Federation Medal for Distinguished Service to the Arts.
One of his favourite quotes was from the poet Robert Frost:
I shall be telling this with a sigh
Somewhere ages and ages hence:
Two roads diverged in a wood, and
I took the one less travelled by,
And that has made all the difference.
We are lucky to have many members and supporters who, like Ross, traverse less-well-worn paths.  Our lives are richer for the insights and experiences they share with the broader Access Arts family.
– Access Arts President, Thomas Bradley QC